Bayerisch-Schwäbische Wirtschaft Magazine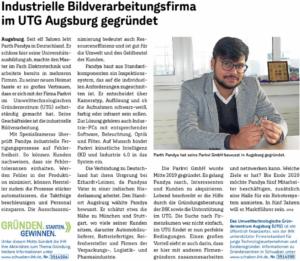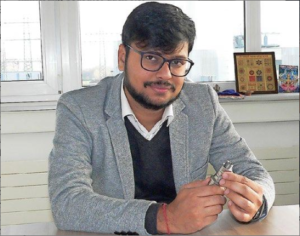 Parth Pandya has lived in Germany for eleven years. He completed his university education here, obtained a master's degree in electrical engineering and has worked in several companies. He gained so much confidence in his new home that he set up his own business with the company Parkvi in the Environmental Technology Start-up Centre (UTG). His business idea is industrial image processing.
Pandya uses special cameras to check industrial production processes for errors. In this way, customers can prove that they comply with error tolerances. If errors in production are minimized, manufacturers can also automate processes to a greater extent, accelerate cycle times and save on personnel. Minimizing waste also means resource efficiency and is good for the environment and the customer's wallet.
Pandya uses standard components to build an inspection system that is tailored to individual requirements. He decides on camera type, resolution and whether the images should be black and white, colour or infrared. The solution also includes industrial PCs with appropriate software, lighting, optics and filters. On request, Parkvi integrates artificial intelligence (AI) and industry 4.0 into the system.
The connection to Germany has its origin at Erhardt+Leimer, as Pandya's father works in an Indian branch. Pandya deliberately chose the Augsburg location. He appreciates, for example, the proximity to Munich and Stuttgart, where many of his customers are located, including automotive suppliers, battery manufacturers, tire manufacturers and companies in the packaging, logistics and pharmaceutical industries.
Parkvi GmbH was founded in mid-2019. Pandya quickly succeeded in acquiring interested parties and customers. He praises the help provided by the start-up consultancy of the Chamber of Industry and Commerce as well as the support in UTG. The search for company premises was not easy, but now he finds perfect conditions in the UTG. He also sees a great advantage in the fact that he can work and network with other company founders. Which goals does he have? By the end of 2020, Pandya wants to employ five people and rent an additional hall for a robot system. In five years he wants to be the market leader.
https://bc.pressmatrix.com/de/profiles/f7f7cea5fa7b/editions/341e9fa352d03b766636/pages/page/42